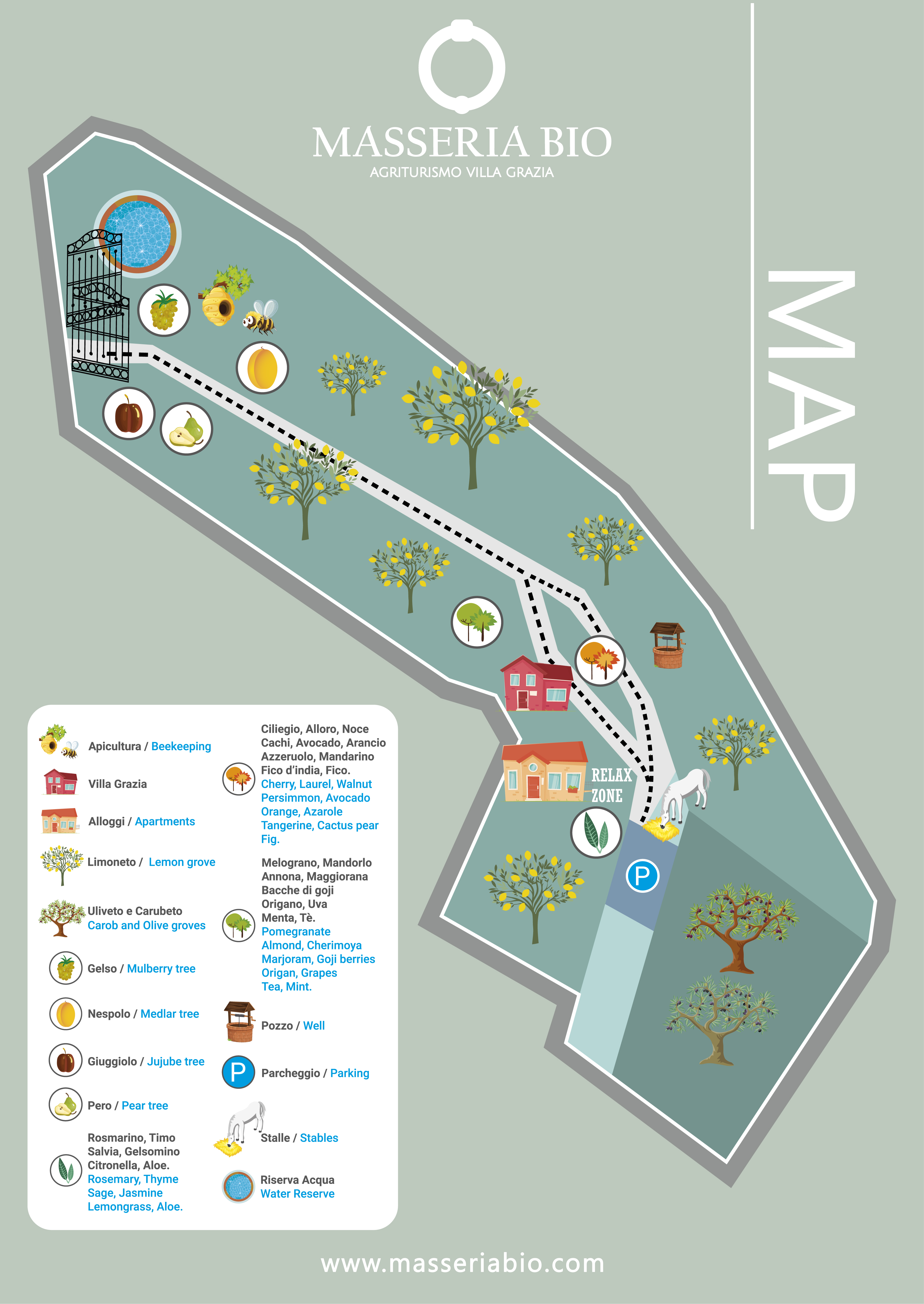 Farm Experience
Wonder how the best Italian products are grown? The secrets behind the "farm to table" process, or simply curious to see what a typical day is like on a Sicily farm? Masseria bio launches its new Farm to Table experience, allowing guests to live in the Sicilian country, this educational and fun experience is offered all year long.
Activities vary, based on seasonality and the farm's needs; olive, pomegranate, grapes, carob harvest take place in the fall, oranges, tangerines, and lemons during the winter; black and white mulberry, loquats (medlar), pear, plum, oregano during the spring; almond, fig, cactus, basil harvest during the summer. We also have a lot of uncommon plants such as ujube, azzerole, avocado, monstera, annona, kumquats.
With our farm tour, you can feel and taste the true essence of Sicily. Enter the paradise of the lemon tree to find yourself, your roots. You will discover all the production phases: from the cultivation of lemons in our gardens to the production of honey and olive oil. Andrea will accompany you on this fascinating journey, much more than expert guides: that work with passion and dedication this land since his family bought it in the year 2000. Walking in our lemon groves you can discover the secrets of preparation of our elixir "limonello",  lemons jam, and honey of our bees. This journey will end with a toast to taste our products. 
The tour include
Walk among the lemon groves

Refreshing breaks with typical products such as lemonade, honey, olive oil, and olive.

During the tour, it's possible to buy our products and we also offer the possibility to ship them.

guests also have an opportunity to participate in the collection and extraction of the olive oil at our partner mill (October- November)